Book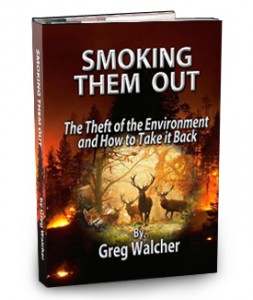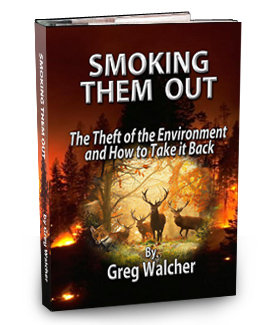 Smoking Them Out:
The Theft of the Environment
and How to Take it Back
Format: Hardcover
Read an excerpt
Book Description
The United States is quickly becoming the first country in history to adopt policies to ensure its own decline. Are we purposely planning our own bleak future? Maybe…
Smoking Them Out argues persuasively that the U.S. is adopting official policies promoting a lower standard of living for future generations, literally encouraging Americans to travel less, live in smaller and less comfortable homes, give up their cars, eliminate many other modern conveniences, and even burn their own food supply by subsidizing ethanol production at the expense of higher grocery prices.
No nation has ever even considered such a future, but America is charting a new direction, based on the view that free enterprise is selfish, that prosperity is unequal and thus unfair, and that our people must stop much of their production, manufacturing, and especially consumption. And it's all founded on the dubious theory that our pursuit of the good life is destroying our environment.
Most Americans care deeply about their environment, but do not realize that the conservation movement has been hijacked– stolen by a huge industry of dishonest money changers whose agenda has nothing to do with the environment. Instead, they are now using the popularity of environmental causes to gain control, power, and money.
A new "us-against-them" mentality has replaced Americans' almost universal support for environmental protection with contention, antagonism, confrontation, and litigation. Legislation, ballot initiatives, and lawsuits have taken the place of community discussion and consensus, and few leaders have discovered the better approach that Walcher outlines.
Based on his work in Colorado and Washington, D.C. over the past 30 years, he shows how states, local governments, businesses, and private individuals can take control of conservation issues, improve the environment without the help of federal agencies or environmentalists, and smoke out those with another agenda. That means recovering endangered species, restoring healthy forests, cleaning the air and water, providing clean energy.
Smoking Them Out shines a much needed light on the path to a sustainable future for America and all our future generations; taking back the high ground, doing the right thing, and becoming a leader in a new conservation movement.