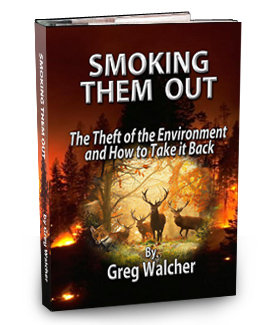 Resources and Reality: A common sense approach to environment and natural resources…
Greg was raised around the peach orchards of Western Colorado and has spent a lifetime working to conserve the environment, while providing the resources needed to sustain a prosperous economy today. He brings his extensive network, experience, and passion to his clients, as well as his speaking and writing.
His solid reasoning, backed with first-hand exposure in the battles against environmental politics-gone-wrong, is precisely what we need in today's mire of unending environmental noise. It is also what many politicians and environmental organizations fear.
Order a copy of Smoking Them Out.
National Conservation Policy Leader
President, The Natural Resources Group
Senior Advisor, Dawson and Associates
Former Cabinet Secretary, Colorado Department of Natural Resources
Former president, natural resources secretaries' national organization
Smoking Them Out: The Theft Of The Environment And How To Take It Back
Smoking Them Out is an olympic-level reality check to environmental policy with a hard-hitting strategy for taking action.
"Beneficial conservation measures should not consist of thousands of pages of legalese that only a Senate staffer can understand. The solution to many of our environmental problems is simple, measurable, and sustainable both economically and from a conservation standpoint."
Mr. Walcher provides the way "out of the wilderness" through practical policy and local solutions. He explains in clear terms how leaders can recapture the high ground from the command-and-control of government – and its allies: the gigantic environmental "industry" whose reliance on legislation and litigation has inflicted unintended consequences on both the economy and the environment.
This is not a book of dry environmental policies, filled with pages of legal code. It is a book about real problems and the solutions that fix them. If you are using environmental issues to gain power, control and money (and don't really care about the environment), this book is not for you. But if you really want a cleaner and healthier environment for future generations, and need to know how to fight back against the abuses of the hidden-agenda crowd, this is a vitally important book.