When I heard about a National Park Service estimate of $78,000 to rebuild 86 feet of walkway, my first thought was, "I'll do it for $50,000."
I am not a contractor, but for that price I could hire several. This is just a trail, but even nice concrete walkways in the South cost only $7 to $16 a square foot. The NPS did not specify the walkway's width, but even at 8 feet wide it would cost only $11,000 for high-end concrete. Needless to say, I could make a healthy profit bidding such a project, at a small fraction of the cost the government apparently wants to pay.
That is way out of context, of course, though we are all accustomed to super-inflated costs of government purchasing. This one is in Chickamauga and Chattanooga National Military Park. It made news because of its connection to the story about President Trump donating his paycheck to the NPS. He is a fan of the national parks, like most of us, and especially interested in maintenance of the nation's historic battlefields. NPS maintains, preserves, and interprets for visitors 25 such parks that include America's most hallowed ground, from Yorktown and Bunker Hill to Gettysburg and Shiloh.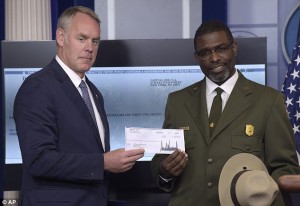 President Trump announced even before his inauguration that he would not accept a salary, so when he received his first check he decided the donation might be well received, help with some of the deferred maintenance issues he had heard about, and perhaps call attention to the importance of these historic sites. His first quarter paycheck was $78,333 and it was handed to Interior Secretary Ryan Zinke and a National Park Service official at the White House in front of the network cameras.
You might think such a substantial and symbolic donation would generate, at least briefly, a feel-good human-interest news story. There are too few of those lately. But in politics, no good deed goes unpunished. The environmental industry immediately branded the donation as a slap in the face, at a time when the Interior Department was being asked to take its share of budget cuts (the administration budget proposes to reduce Interior by about $1.5 billion, or 12 percent).
The president's philanthropy and the national budget are completely different issues, but the contrast was too delicious for the loyal opposition, groups constantly looking for ways to embarrass the president. Secretary Zinke and his team went to work right away to identify projects where the donation might be used, asking NPS to identify deferred maintenance projects in that price range. In a series of emails between Zinke's team and NPS, it turned out that the agency just could not find any project that "cheap." They need $229 million for the battlefield preservation program, they said, not $78,333.
We know this because an environmental reporter sought to embarrass the administration by demanding copies of the internal emails, but Zinke's Department promptly released them as required by law (how refreshing), and the only people embarrassed are the uncooperative NPS officials. They said cleaning, painting, and replacing cannon carriages at Chickamauga would cost an estimated $85,100; restoring monuments at Vicksburg would cost $95,500, and a number of other projects involving preservation of military monuments were all over $120,000. Finally, the agency told Zinke's staff that $78,333 might rehabilitate barely 86 feet of a trail at Chickamauga (as noted earlier, it could probably be paved with concrete for a fraction of that cost).
Critics were shrill in denouncing the presidential donation, calling it a "drop in the bucket," a "needle in a haystack," and worse, an effort to detract attention from draconian budget cuts that will destroy national parks.
Budget cuts are not personal, just business. The administration is just beginning to scratch the surface of the $19 trillion debt it inherited, along with a government spending binge unparalleled in history. Almost every discretionary agency is being asked to share some of the spending reductions — nothing personal there.
The president's donation, on the other hand, was very personal. Out of his own pocket, it was a conspicuous — and unprecedented — statement from a president (and his Interior Secretary) that the national parks are important to them, personally. Some people cannot see outside the confines of their political agendas, and will say if the parks are so important, we should give them more tax money. Here's an alternative: let's stop adding vast new national monuments without local support (as Presidents Obama and Clinton did), and focus instead on maintaining these historic national treasures, and at reasonable prices. If they can't even repair a short piece of trail for $78,000, let's find new contractors.
A version of this column originally appeared in the Grand Junction Daily Sentinel May 12, 2017.