President Obama is poised to use his power under the century-old Antiquities Act to designate a series of new national monuments just before leaving office. That is a proud tradition started by Jimmy Carter and perfected by Bill Clinton, but Obama's designations will dwarf their controversial actions.
Obama has already created or expanded 28 national monuments, more than any other president. His designations have ranged from a gay bar in New York City to a "maritime park" in the Atlantic Ocean where New England fishermen once thrived. A new monument in Maine covers 87,000 acres. Sites he has designated for federal "protection" include historically significant places in Maryland, Illinois, Ohio, Delaware and D.C. All of those are urban parks of a single block or a few buildings, while new monuments out West are mostly massive tracts of federal land (one in California is 330,000 acres). Still, many westerners smile as these controversies go east, so our compatriots in other States can share the good fortune we enjoy out West – where the federal government "protects" (from us) nearly all the major economic resources.
A new monument about to be designated in Oregon will enlarge the Cascade-Siskiyou National Monument, a Bill Clinton creation said to be the first monument designated for the purpose of "protecting biodiversity." Never mind thinking that is a core purpose of almost all public lands; this is about politics. The new additions to that park (already 65,000 acres) are said to be needed because the current boundary "has left a patchwork of vital habitats and watersheds unprotected." Unprotected from what, you may ask? Two Senators supporting the expansion wrote that "the growing effect of climate change… [has] highlighted the importance of protecting the entirety" of the region. They did not say exactly how expanding a national monument in southeastern Oregon will slow global warming.
As William Perry Pendley recently wrote, such political pandering was not the purpose of the Antiquities Act; it applied to items of antiquity. Its purpose was "the preservation" of "relics of prehistoric times," "scattered throughout [America's] Southwest." These designations by recent presidents are meant simply to bypass the legislative process (national parks require congressional approval) and acquire more federal control over more land. Historic sites, beautiful places, cultural resources, and even vast tracts of wilderness have been managed by state and local governments, and by private organizations, for generations. But there is now a growing view that important resources can only be "protected" by federal ownership.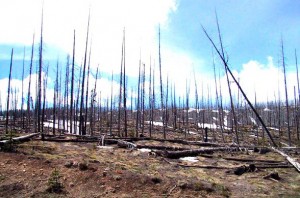 In the West, people already know that is not only a false premise, but a dangerous one for the environment. Federal ownership and mismanagement has proven to be a death sentence for millions of acres of national forests, and the EPA's recent poisoning of the Animas River speaks volumes about the arrogance of federal managers who ignore local expertise. But since we have been unable to convince Congress to do anything other than complain about these abuses of the Antiquities Act, I now have a different strategy and President Obama is following it perfectly. That is, we should designate vast tracts of national monuments all over the East, so everyone can share in the good fortune of federal protection – much like America's original colonists enjoyed the "protection" of the British crown.
I once advocated creation of a massive wilderness area off the coast of New England, about the size of Colorado's large Weminuche Wilderness Area, just under a half million acres. Such an ocean wilderness could "protect" an area the size of Rhode Island or roughly the entire east coast of Massachusetts. It would prohibit the use of anything motorized, though fishermen would still be welcome to ply their trade so long as they wanted to row. The Obama Administration says new monuments create lots of new jobs and can spur local economies with new tourism dollars. Yet when I proposed the Atlantic wilderness area some years ago to a group of congressmen, they reacted harshly with comments about how that would "crash the entire economy" of New England. "Precisely," I responded.
Obama's new offshore national monument is not a wilderness area, so motorized ships can still cross it and fishing is still allowed, for now. But federal control, budgets, employees, and management plans will soon follow. Once such "protection" is extended across more than half of all the land in all the States east of the Mississippi, and nearly all the waters of both oceans, the rest of country will be fully enjoying the West's good fortune.
A version of this column originally appeared in the Grand Junction Daily Sentinel October 21, 2016.