"My, what big teeth you have," said Little Red Riding Hood, only then realizing she was speaking to the big bad wolf, disguised in grandmother's clothes and hungry. I don't know if parents still read the tale to their children, with its lesson about the hazards of strangers. But it should be read again and again to students of modern politics.
One of the most effective tools in a political arsenal is to disguise a controversial plan in more popular terms to win public support. Hide a wolf in grandma's cloak, and people will not be afraid of the wolf – they'll love it. Consider the growing support for a proposal called "net neutrality." Ask anyone if they think Internet news sites ought to be balanced and politically neutral, and most say that sounds right. But ask if the government ought to censor Internet content, and almost nobody thinks so. Hint: they are the same thing.
Another disguised wolf may be on the Colorado ballot this fall, appearing as a reasonable measure to push drilling and fracking operations a little further away from homes, schools, and rivers. But my, what big teeth it has.
If "Initiative 78" gathers enough signatures to be on the ballot, and voters approve it, the State Constitution would ban drilling or fracking within 2,500 feet of occupied structures and other "areas of special concern." That includes creeks, rivers, "perennial or intermittent" streams, lakes, canals, and riparian areas – virtually all surface water. And it includes "public open spaces," a term that is not specifically defined, but Western Slopers know that encompasses almost all land in our region.
Colorado already has the toughest oil and gas regulations in America, some of which were adopted when I headed the Department of Natural Resources. We already have strict "setback" rules prohibiting drilling within 1,000 feet of schools and hospitals, 500 feet from homes and commercial buildings, and 350 feet from recreational areas. These regulations were carefully designed to balance our need for energy and a strong economy with the environment, public health and safety. But even these strict rules are not good enough for some activists – because there is still energy production in Colorado.
If you ask most Colorado voters if we should ban all energy production, they overwhelming say no. Thus, this proposal masquerades as a simple extension of the "setback" requirements. Many voters may think it sounds reasonable to push drilling back a little further from our homes and schools. So perhaps someone should look at the map and figure out what these new "setbacks" would actually mean on the ground.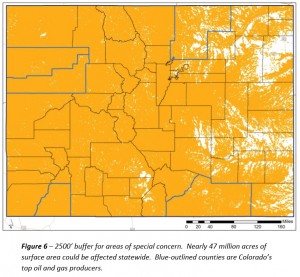 It turns out, the Colorado Oil and Gas Conservation Commission (our state's regulatory agency) just did exactly that. What they found is a disguised wolf. If the initiative passes in November, oil and gas development in Colorado could quite literally cease to exist.
The maps show that a 2500-foot setback requirement would prevent drilling and fracking in 90 percent of the entire State, and 95 percent of our largest producing counties. Three of those (Garfield, Rio Blanco, and La Plata) are on the Western Slope, and they would become almost entirely off limits. A 2500-foot buffer zone around all occupied structures would wall off nearly 14.5 million acres statewide, and the so-called "areas of special concern" would eliminate another 47 million acres. Governor Hickenlooper is right in saying that could amount to a "taking" of private property that could make the State responsible for billions of dollars in damages.
An analysis by the University of Colorado Leeds School of Business reminds us that the oil and gas industry contributes $25 billion a year to Colorado's economy, and supports more than 93,000 jobs. It estimates more than 60,000 of those jobs could be lost if this ballot measure passes. That would be a major "setback" for our economy.
Powerful environmental groups have wanted for years to ban all drilling. So expect a barrage of campaign ads this summer and fall, and organizers canvassing neighborhoods and malls to gather signatures. Coloradans care passionately about our environment, so there is a good chance these groups will get the required signatures. But our voters are also increasingly savvy about energy, and we have seen this movie before. Pollsters this year say 68 percent of registered voters in the State are likely to support candidates who favor more oil and gas production, not less.
Maybe we're learning Little Red Riding Hood's lesson that strangers are not always as nice as they appear.
(A version of this column originally appeared in the Grand Junction Daily Sentinel June 10, 2016)